Upgrade to a 75-foot Executive Houseboat. Stand out of the crowd and Party with up to 25 people on your Executive Houseboat right on the water at the Nautical Inn | Sleeps 12 people
* The  US Coast Guard Maximum Capacity for all Houseboats is 12 people while underway.
* 25 passengers are allowed provided the houseboat is moored and touching shore.
HERE IS WHAT YOU GET DURING SPRING BREAK 2018
• 4 Days and 3 Nights on our Luxury Houseboat,
• 12 Party Package wrist bands,
• 10 Cases of Monster Energy Drinks
$5,695.00 .00 
Week 1: Mon -Thurs
March 5th to March 8th 2018
$5,695.00 
Week 2: Mon -Thurs
March 12th to March 15th 2018
$5,695.00 
Week 3: Mon -Thurs
March 19th to March 22nd 2018
$5,695.00 
Week 4: Mon -Thurs
March 26th to March 29th 2018
Executive 75 Foot Houseboat Features
Accommodates up to 12 people comfortably
Private King size master suite
Sleeper Sofa
3 Private Queen size Staterooms
Queen Size Air Bed
2 Full Bathrooms
Flat Screen TV and Surround Sound System
State of the art audio sound system in the salon and sun deck with CD- Blue Tooth- Iphone-MP3 connections.
Upper deck driving helm
Sun Deck Wet Bar
Canopy on Top Sun Deck
Water Slide
Commercial Stainless BBQ on upper deck
Sun Deck dining table and chairs
Hot Tub- 6 Person
SALON
Extra Large Salon
Coffee Table
Dining Table with seating for 8
Flat Screen 42 inch television
Surround Sound with Blue Ray DVD
Game Connection
Stereo-CD-Ipod-Blue Ray
MASTER SUITE
Master Suite with king Size Bed
Master has 32 Inch Flat Screen and Blue Ray DVD
Master with Private Bathroom and Shower
Master Wired for Sound
Three Private Staterooms with Queen Size Beds
Two Full Bathrooms with Showers
KITCHEN
Fully Equipped Kitchen
Side-by-Side Refrigerator
Chest Freezer
Full Size Electric Range and Oven
Microwave
Dishwasher
SUN DECK
1200 Square Foot Deck
Large Sun Canopy
6 Person Hot Tub with propane gas heater for quick heating
4 Lounge Chairs
Water Slide
Galley with Commercial 3 Burner Grill with Side Burner
Dining Table with seating for six
Wet Bar with 3 Bar Stools
Flying Bridge with Helm
Stereo-CD-Ipod-Bluetooth
Outdoor Sound Speakers
ON-BOARD INVENTORY
Blender
Toaster
Coffee Maker
Box Coffee Filters
Colander
Microwave Safe Bowls
Pyrex Glass Baking Dish
Mixing Bowls
Serving Platter
Measuring Cup
Measuring Spoons
Spatula (2)
Corkscrew
Wisk
Ice Pick
Can Opener
Cheese Grater
Plastic Spoon Large
Slotted Plastic Spoon
Pasta Spoon
Soup Ladle
Salad Tongs
Potato Masher
Potato Peeler
Pitcher
Cookie Sheet
Cutting Board
Drain Board
Scissors
BBQ Brush
BBQ Fork
BBQ Spatula
Lighter
Lighter
ONBOARD SUPPLIES
4 Trash Can Liners
4- 55 Gallon Trash Can Liners
Scrubber Sponge
Bottle of Dish Soap
Dishwasher Soap Packs
Kitchen Trash Can
OTHER
Broom and Dust Pan
Paper Towel Holder
Silverware Tray
Vacuum
Throw Cushion
First Aid Kit
Sledge Hammer
Pound Down
Marine Radio
Bio Degradable Toilet Paper
15 -Life Jackets- Children's available upon request
4- Stakes
4- Fire Extinguishers
Large 150 Quart Ice Chest
2- 55 Gallon Trash Cans
POTS AND PANS
Frying Pan 10 Inch
Frying Pan 12 Inch
Sauce Pot
Spaghetti Pot
Dinner Ware
12- Dinner Plates
12- Bowls
12-Glasses
12-Coffee Cups
UTENSILS
12- Forks
12-Knives
12-Spoons
12- Steak Knives
Carving Knife 8 inch
Carving Knife 10 inch
Carving Knife 12 inch
Bread Knife
Paring Knife
LINENS
1 King Fitted Sheet
1 King Flat Sheet
3 Queen Fitted Sheet
3 Queen Flat Sheet
5 Blankets
10 Towels
2 Bath Mats
2 Pot Holders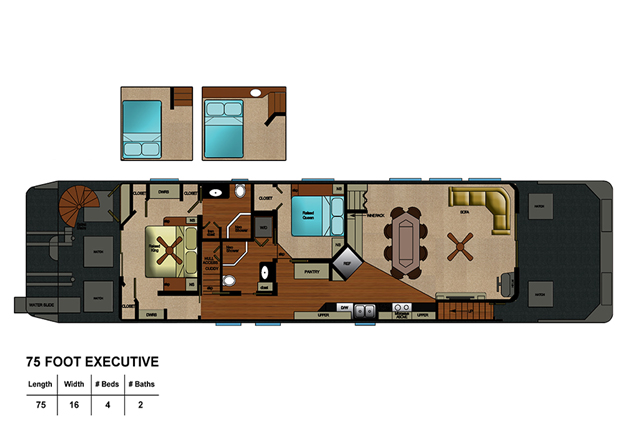 BOAT SIZE: 75′ Long by 16'Wide
MAIN CABIN SIZE: 941 sq. ft.
PASSENGER CAPACITY(S): Sleeps 12 Max. 25 (must be on shore)
NUMBER OF STATEROOMS: 1 King Size Master Suite 3-Private staterooms with Queen Bed
LINENS: Provided
BATHROOMS: 2 full baths 1 queen stateroom has vanity sink
HOT TUB: Yes- 6 Person
TV: Flat Screen 42″ with Surround Sound-Blue Ray
DVD SOUND SYSTEM-SALON: Full Sound System-CD-Ipod-Mp3
SOUND SYSTEM-SUN DECK: Full Sound System-CD-Ipod-Mp3 -Blue Tooth
PET POLICY: Yes
GENERATOR: 15KW -With Vertical exhaust- consumes 2-3 gallons per hour depending on the usage
LIGHTING/POWER: 110V-Generator/ 12V Low Voltage
MARINE RADIO: Provided
 SAFETY EQUIPTMENT: 12- Adult Life Jackets (Children upon request) throw cushion, 4 fire extinguishers, horn, carbon monoxide detectors
REFRIGERATOR: Electric 23 cubic foot side by side
FREEZER: ELECTRIC 5.3 CU. FT.
STOVE AND OVEN: Full Size 30 inch Electric
MICROWAVE: Yes
BBQ: Commercial 3 Burner infrared on top deck
DISHWASHER: Yes
WATER HEATER: Yes Electric
PROPANE: Provided
TOP DECK CANOPY: Provided
SWIM SLIDE: Provided
UPPER DRIVING FLY BRIDGE/HELM: Provided
COOLING/HEATING: Central air and heat powered by generator
CEILING FANS: Yes
ENGINE SIZE: Twin Mercruiser 4.3 MPI V6 Bravo II outdrives
FUEL USAGE/TYPE: 16 Gallons per hour–Unleaded Fuel
FRESHWATER CAPACITY: 400 Gallons
TOILETS: Lake Water
BLACK HOLDING TANK: 300 Gallons
Rental Deposit
A Rental deposit of $3,000.00 is due upon making your reservation. THIS DOES NOT APPLY TOWARDS YOUR RENTAL AMOUNT. The rental fee deposit is subject to our cancellation policy and is completely refunded as long as the houseboat is returned on time and in the same condition as when rented.
Houseboat Boarding
Boarding is between 10:00am. and 3:00 p.m. unless otherwise indicated in your rental agreement. Check in at the rental office upon arrival. Houseboats must be returned to the marina unloaded no later than 10 a.m. on the last day.
Call (800) 843-9218 to book your Houseboat.